Melissa Neis, Vice President of Parr Insurance Brokerage, along with Dwight Zivo, Vice President of Marketing,  met with representatives from the ever-growing auto manufacturing company BYD in Beijing for the launch of their 2 new electric vehicles, the BYD Qin Ev300 and e5 .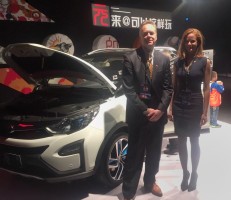 The Qin (pronounced "chin") EV300 is an all-electric version of the Qin plug-in hybrid first glimpsed at the 2012 Beijing Auto Show. Both vehicles can discharge electricity to help power houses during blackouts, BYD says. Pricing in China starts at 259,800 yuan ($40,171) for the Qin EV300, and 229,800 ($35,553) for the e5. The Qin EV300 also features a special air-purification system.
In China, the rise of natural gas car ownership in the 21st century has effected the environment negatively. Thus, the Chinese Government is providing incentives for Auto Manufactures and the general public to switch to electric cars. As a result, electric vehicle sales have multiplied by more than 3x with 2015's sales of 331,000 EVs. Endorsed by Warren Buffet, BYD corporation has stepped up to the plate with its own line of electrical cars. In 2015, BYD sold more than 55,000 units but this year sales are expected to reach 150,000+.
Chairman Wang ChuanFu explained "The Chinese government has more comprehensive policy support on new-energy cars than other governments, leading to the industry's explosive development last year," said Wang. "The rapid growth will remain from 2016 to 2018."