This week Tom had the pleasure of lunching with our friend and distinguished numismatist Dr. Howard M. Berlin, in town for the ANA World's Fair of Money held August 5-9th at the Donald Stephens Convention Center in Rosemont, IL. With massive displays of modern and ancient tokens, coins and artifacts, the show attracts numismatists, collectors and buyers from around the world to learn about the field's latest strategies and opportunities. The star of this year's show was the rare 1787 Brasher Doubloon, graded NGC MS63 and insured for $10 million.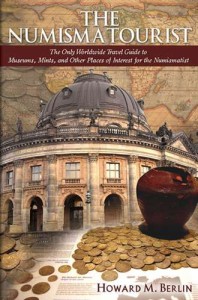 Dr. Berlin's recently released book The Numismatourist, a first-of-its-kind travel guide for the numismatist. The book describes over 150 museums, mints and central banks across 75 countries and five continents. In addition to several books on coins and bank notes and other topics of varied interest, he has also written for WorldWide Coins, Coin World, Paper Money Values, The Banknote Report and The Shekel.
Are you a numismatic hobbyist? Do you suspect your collection could be considered rare or valuable? Do you have questions about valuation and insurance? We can help! Contact us today and we will put you in touch with Dr. Berlin or a numismatic appraiser in your area to make sure your collection is adequately valued and protected.